Yacht documentation services have come to an end for those looking for them! We provide different document services at the Maritime Documentation Center to make the registration process easier for USCG vessel owners. We want to make it as easy as possible for you to get your boat up and run. Maritime authorities create Yacht documentation services with years of expertise in dealing with issues, including registering yachts, making records, and updating USCG papers. To ensure that your boat is always in compliance with current rules and standards, you can rely on our expertise. Whenever you need assistance updating your USCG records, we're here to help you. Check out our services now and learn how they may help you save both time and money!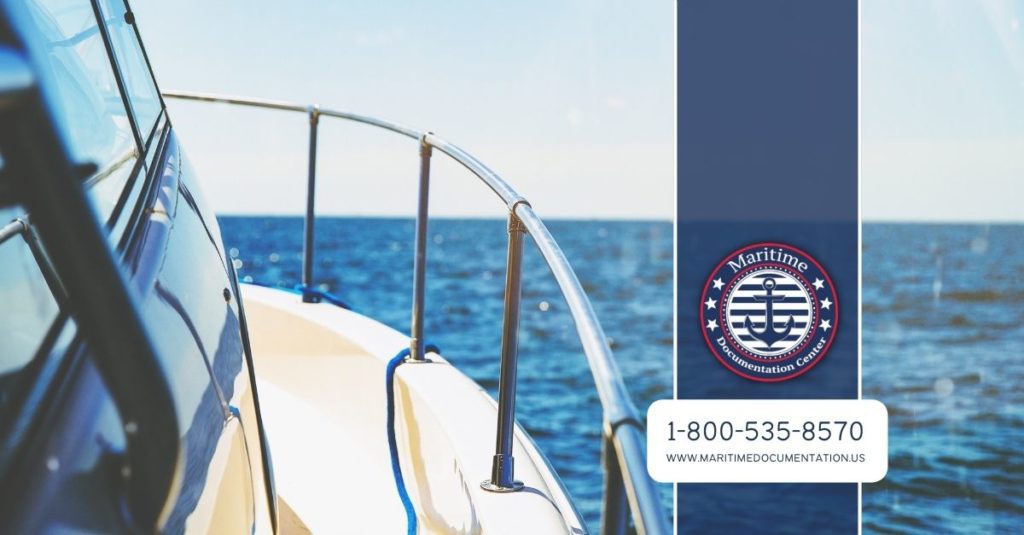 Abstract Of Title as One of The Yacht Documentation Services
As a buyer or seller, you have no idea what the boat's title will look like when you acquire it or when you retrofit your existing yacht. Don't hesitate to contact us if you want to register your USCG vessel and need an abstract of title to be created. Getting a loan for repairs and filing an insurance claim is simpler when you have a clear title.
Abstracting a title is a difficult task. Check whether the information is accurate before comparing it to the record. For instance, was the vessel's hull owned by someone else? U.S. Coast Guard corrections are required in this case. Many of these problems might arise if you manage your abstract of title services. There is no reason why you can't delegate this task to us. There are several advantages to doing so, including saving you time and ensuring that your vessel is properly regulated.
Change Of Vessel Name or Hailing Port
Changing the name or location of your ship is never straightforward. The Maritime Documentation Center will do all possible to make your relocation as smooth as possible. Yacht documentation services have been our speciality for over two decades. We're always looking for new and better ways to serve and assist our clients. Your VMS papers or other professional marine services records should be updated by us when you need to.
If you're changing the name or location of your vessel, it's usually a good idea to register it with the appropriate authorities according to texas.gov. To avoid getting a ticket from the local maritime police and the Coast Guard, you should follow the required guidelines. The vessel's name may be changed even if it is not used for personal purposes. A divorce, or the departure of an old business partner, may necessitate a change of ownership. We offer the perfect answer for anything you need to accomplish.
Vessel Renewal
As a USCG ship owner, you must know the requirements governing paperwork. "A documented vessel that has not had an annual physical inspection and has not been enrolled in the Towing Safety Programs (TSO "A") within 12 months shall therefore be subject to relinquishment by the Coast Guard," specifies one rule. This implies that your boat must undergo an annual health examination. In order to ensure that your vessel is compliant with USCG standards, there are a variety of options for obtaining yacht documentation services. When an owner of a vessel decides to bring the records of their vessel up to date, they must go through the procedure of reinstating paperwork. When one of the following happens, this is a must:
When the ownership of vessel changes;

If vessel records expire;

If a vessel is sold or repossessed;

If a vessel is deemed unseaworthy and cannot be repaired.
Transfer/Exchange of USCG Documentation
The insurance cost is greatly influenced by the status of a vessel's paperwork. This also determines the legal status of a ship. If a boat is documented in the United States, it is subject to maritime jurisdiction, and if it does not comply with USCG documentation standards, it will be fined. Vessel ownership transfers are rather frequent. There are several ways to transfer ownership of a vessel, but if you know what you need to do, the procedure becomes much simpler.
USCG boat paperwork transfers and exchanges are comparable to registering a car. Application for Certificate of Papers (CG-1275), an application fee and payment, and any needed supporting documentation, are required when transferring a document to another person, boat or vessel. The new owner will access all of your information, but the ownership will be transferred.
I hope that the information provided above will assist you in better understanding yacht documentation services because owning a USCG vessel might be tough if you don't have it. That is why the Maritime Documentation Center should be your first choice for yacht documentation services in the future. With more than 25 years of expertise, we know what it takes to register a USCG vessel properly, and we'll be pleased to guide you through every step of the process from beginning to end. Contact us now to get started. Give us a call at 1-800-535-8570 right now to find out more information.