Boat owners licensed by the USCG may ask why they must provide documents. Boat documentation is evidence that it satisfies the federal safety regulations for a vessel, and it is also something that may be used as evidence in the case of an accident. Having all your boat's paperwork provides peace of mind that it's functioning legally. If you are considering purchasing or selling a USCG vessel, you must have the necessary papers. 
When you have the proper documentation, registering your yacht and renewing your registration each year is much simpler. Get in touch with the US Coast Guard immediately to learn more about how boat documentation might assist you. If you own a boat, you know how critical it is to have the appropriate documents at all times. But what accounts for that? The following are some of the circumstances in which boat documentation could be required:
To Prove Ownership
You must have formal papers to demonstrate that you are the yacht's owner. If your boat is stolen and you don't have a bill of sale (or if you have one but it's been lost in some way), you will have a difficult time getting it back. Even if you have the bill of sale, there is still a chance that someone else may try to claim ownership of the item. For example, someone might steal it and then sell it to someone else who says he purchased it from the thief. Even if you have the document of sale, this could still happen. In circumstances such as these, doing a title search will assist in removing any uncertainty about the identity of the person providing accurate information.
Boat Documentation Helps To Comply With State and Federal Laws
According to archives.gov, you may have already heard that the government requires boat owners to know how to handle and maintain their boats. In addition, boat owners are required by law to maintain complete records of their boat's upkeep. Operating an unregistered watercraft is punishable by penalties or prison time in various jurisdictions. Because of this, boat owners need to keep records. If your boat is destroyed or otherwise compromised while it is being used on the water, your boat registration paperwork will be utilized to verify ownership and establish legal liability. If your boat is stolen, vandalized, or otherwise damaged, having it registered might indicate that you are the rightful owner. This is also useful in the case of an accident when your boat is being driven by someone else. If another party is injured in an accident and seeks compensation from the vessel's insurance company, the boat documentation may be used to verify who owns the boat.
To Show Proof of Insurance
You must have current boat documentation of your boat insurance in your possession if you want to take passengers out on the water in your vessel and will be doing so with other persons. If someone is harmed while on your boat, it is not enough to say that you are sorry; the question will still be raised as to whether or not you have insurance. If you do not have the relevant papers to provide evidence of boat insurance, you risk being sued for any harm occurring while someone is onboard your boat. Despite this, you have no legal protection. The legislation stipulates that liability insurance must insure all passengers aboard a vessel.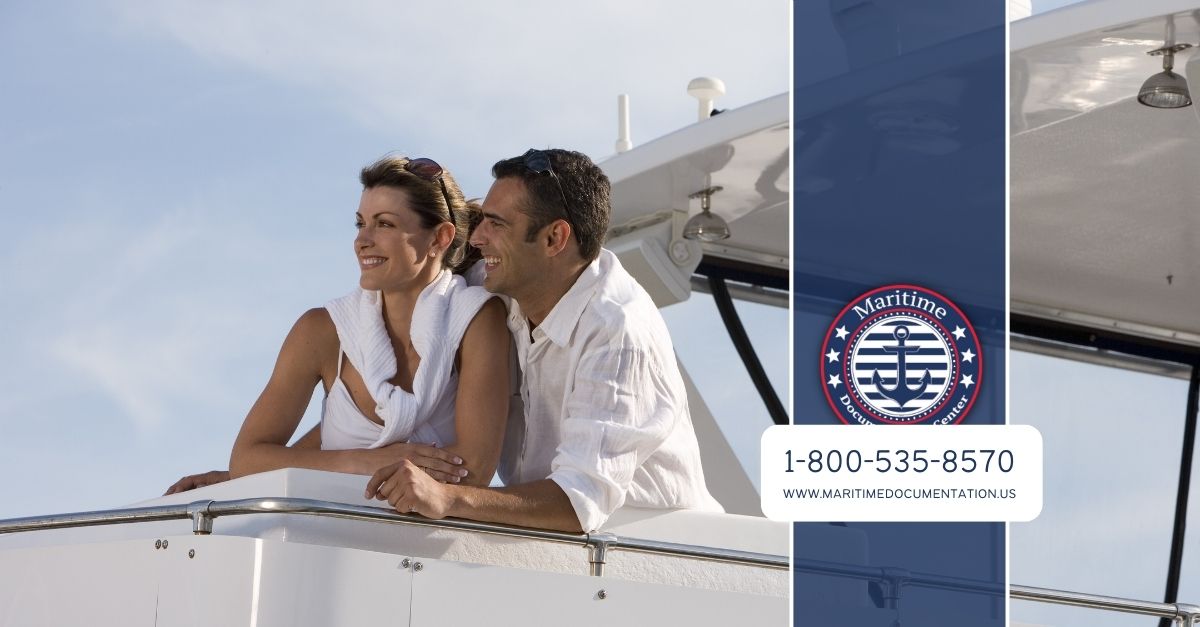 To Establish the Vessel's Value
Documentation about your boat might prove that it is insured and safe for passengers to use. The worth of a vessel may be determined by a variety of characteristics, such as its age, size, condition, and components. The value might be affected by the state and the nation in which it is registered. Documentation for your boat may help determine your vessel's actual value. This will ensure that you do not sell or transfer the boat for less than it is worth. Documentation for your boat will enable you to get loans from financial institutions and grants from government bodies that sponsor such projects. This will come in handy if you need to make improvements or modifications to your vessel. When you make this kind of enhancement to your home, you may be eligible for tax benefits, thanks to this fact.
Boat owners may find that boat documentation costs a small price for the many benefits they will enjoy. By contacting the Maritime Documentation Center today at (800)-535-8570, you can learn how boat documentation can help you maintain a safe, seaworthy vessel and avoid fines in the event of an accident.