Do you sometimes think, "Only a documented vessel owner would understand that," after experiencing anything while aboard a ship? Maybe you are, and if so, keep reading! Due to the increasing number of boats on the lake, another is always nearby. Whether they've been there for 50 years or five years, these boats have a memorable character.
There are many ways a vessel differs from a regular boat, but the method in which it is registered is one of the most obvious. You undoubtedly already know that having a yacht registered with the state or federal government has several legal ramifications. The registration documents for a vessel will show that it is classified uniquely from other boats. These are only a few examples.
The Importance of Documentation and Keeping Track of Everything
Paperwork is your primary link to your boat's past owners, servicing history, and others. The United States Coast Guard (USCG) has a comprehensive database of all registered boats in the country, so if your documented vessel runs into trouble (due to floods, grounding, or anything else), the USCG can quickly put you in contact with the rightful owner. In the law context, this is of great use in claims, litigation, and insurance concerns.
In addition to selling your boat, docking at marinas, launching your boat from a boat ramp, anchoring your boat at a private dock, or even launching your boat from a boat ramp all need proper documentation. You might face fines, penalties, or months of waiting for USCG authorities to accept your application if you need the necessary documentation and registrations. Keep duplicates of everything in case of problems like these: payment receipts for all maintenance and improvement jobs.
How Satisfying It Is To Find A Well-Organized Binder Full Of Information about Your Boat When You Need It
When you own a boat, you learn a lot about it, mainly if you are the sort of person who loves to maintain things in order. The fact that there are so many potential complications makes avoidance impossible. And not just little matters; things that may leave you adrift in the middle of the ocean with nothing but a life jacket. Learning as much as possible about your documented vessel is, therefore, a wise investment of time and effort.
The issue is that only some individuals are interested in spending hours poring through big binders of technical instructions and maintenance schedules. Instead, they'd rather lie on an inflatable raft in the sun and drink beer. The internet is a fantastic resource for answering boating-related inquiries, but it is not without its pitfalls. With so many vessels available, it's easy to assume certain things while reading message boards or official manufacturer pages. There might be inaccuracies, information that needs to be more detailed, broad, or both.
The Importance of Keeping Up with Updates for Your Documented Vessel
If you own a documented vessel, you know how important it is to stay up-to-date with the Coast Guard. You can operate your yacht once you renew its expired documentation lawfully. A vessel may be fined thousands of dollars and be confiscated by the Coast Guard for operating without a current, valid Certificate of Inspection, even if it is just two days late for its biannual inspection. Each recorded vessel must undergo a biannual inspection by the US Coast Guard. You can't afford to skip this examination since it will decide the legality of your ship's future documentation.
All onboard equipment must be thoroughly examined as part of this inspection, with any issues being addressed promptly. When urgent fixes are not possible, the US Coast Guard may grant vessel owners interim clearance to sail while repairs are being done. This record must be kept current and accessible at all times. The procedure should be simple as long as you stay on top of things (and don't wait until the last minute to do anything).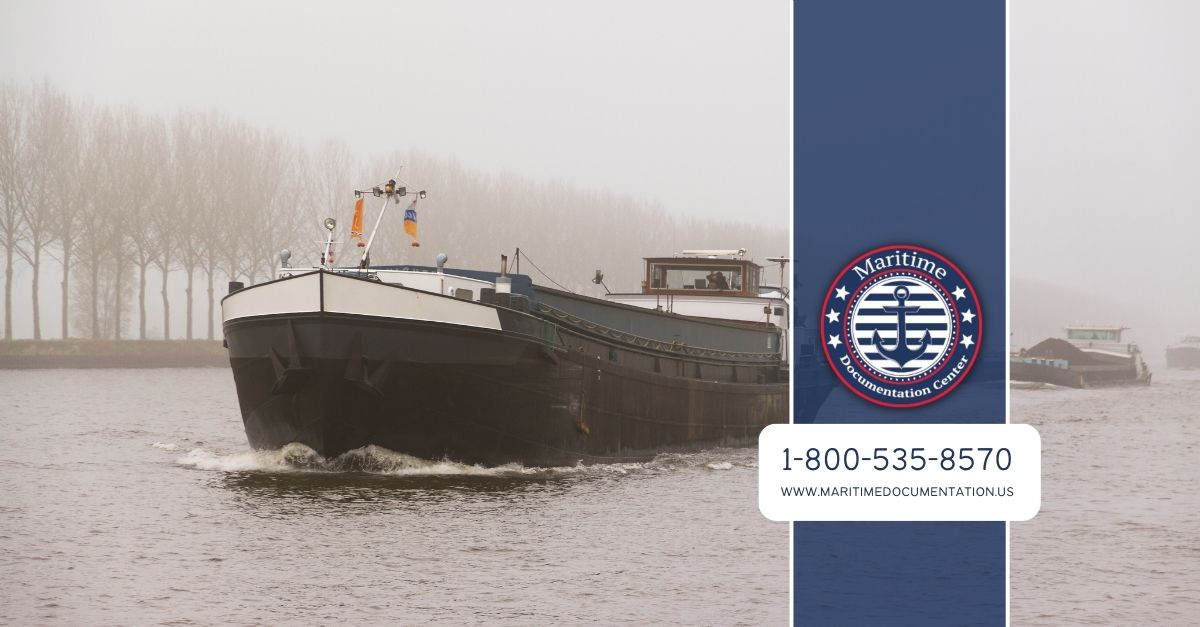 How Paperwork Can Sometimes Be Overwhelming
It's like a rite of passage for the captain of a US-flagged vessel to go through tons of paperwork. You would think that filling out paperwork would be the last thing on anyone's plate, yet it seems like they're always there. When you're done, you'll need to go back and note when they're due and save copies for posterity. It's simpler if you have faith that the message will reach its intended audience but you wonder whether the correct individuals will get it.
What happens after you've completed the forms and inputted your location information? Do you ever ponder who gets your data when you renew your vessel paperwork, sell your boat, or register it in a new state? Do you ever question whether or not anybody reads it? But I can assure you that your forms are being read.
When you need a maritime document for your boat, you can rely on us for fast service and quality products. At the Maritime Documentation Center, we have the experience, equipment, and facilities to quickly and efficiently fulfill your needs. Contact the Maritime Documentation Center for more information.