It's possible that a lot of people who own boats aren't familiar with the US Coast Guard boat registry or the advantages of being listed on it. The United States Coast Guard maintains a database of all boats in the country that are registered with them as part of the USCG's boat registry. The United States Coast Guard is responsible for its upkeep, and all law enforcement agencies in the country have access to it. Being listed on the registry can give boat owners a sense of security because it makes it more challenging for thieves to steal their vessel and makes it possible for the boat to be identified more quickly in the event of an accident. This article will discuss the advantages of registering your boat with the United States Coast Guard (USCG) and explain how to register your boat with them. Here are some suggestions on how to go about doing that:
Determine if Your Vessel Needs To Be Registered
First, you need to find out if you are required to register your vessel with the US Coast Guard Boat Registry, according to ecfr.gov. If you are, then you can move on to the next step. This can be difficult to make at times, especially if you are unsure of what constitutes a vessel in relation to this discussion. Checking to see if your boat has any propulsion power, even if it's just a trolling motor, is a good rule of thumb. In that case, you are going to have to register it. On their website, the Coast Guard provides a helpful tool that can assist you in determining whether or not your vessel is required to be registered. It is essential to check the requirements first because not all boats are required to be registered. Generally speaking, a yacht longer than 13 feet must be registered.
Gather the Required Information for the US Coast Guard Registry
You'll need to do a few things before registering your boat with the US Coast Guard Boat Registry. A launch receipt and proof of ownership are required to begin the procedure. The manufacturer's launch receipt is self-explanatory; it indicates the date and location of the vessel's launch. As long as you have a bill of sale or other written documents that mean you are the vessel's owner, you should be ready to go. The United States Coast Guard keeps a list of registered vessels online. If you want to be included on this list, you'll need to use this database, which the government maintains. Recreational boaters and those who want to get their fishing or boating careers off to a fast start are increasingly turning to this option.
Familiarize Yourself with USCG Regulations
No one may own a boat in the United States of America without meeting specific criteria set out by the United States Coast Guard, which include possessing special safety equipment and having a working understanding of local maritime laws and ordinances. You can get a certificate from the US Coast Guard if you put in the effort, but it's a lengthy process. To receive the registration number, you must go through a series of steps—and then it's critical to maintain track of your boat's registration. 
The next step before buying a boat or using one is to familiarize yourself with USCG laws. Please visit the US Coast Guard's Boating Safety website to stay up-to-date on boating laws. You'll need to know the difference between a "documented vessel" and an "undocumented vessel" if you want to get your USCG certificate. To get a Certificate of Documentation, you'll need to know the proper procedures for registering as a documented vessel.
Choose the Registration Type That's Right for Your Boat
When registering your yacht, you should be aware that two primary kinds of registrations are available. An In-Lieu registration demonstrates that the vessel has been registered in another state or province, and you want to register it here. If your boat has previously been registered elsewhere and you don't intend ever to register it elsewhere, this is the best option. If you have never had a boat registered before, you will need a Direct registration. 
Anyone who has just acquired a boat and wants to enter it into the Coast Guard's database should use this method. It's also the sole option for folks who want to keep their boat in the same spot for the remainder of their life and aren't interested in registering it elsewhere. Ensure your boat complies with all federal and state regulations before applying. Boats often need a title or bill of sale and an official identification number to be correctly registered and insured.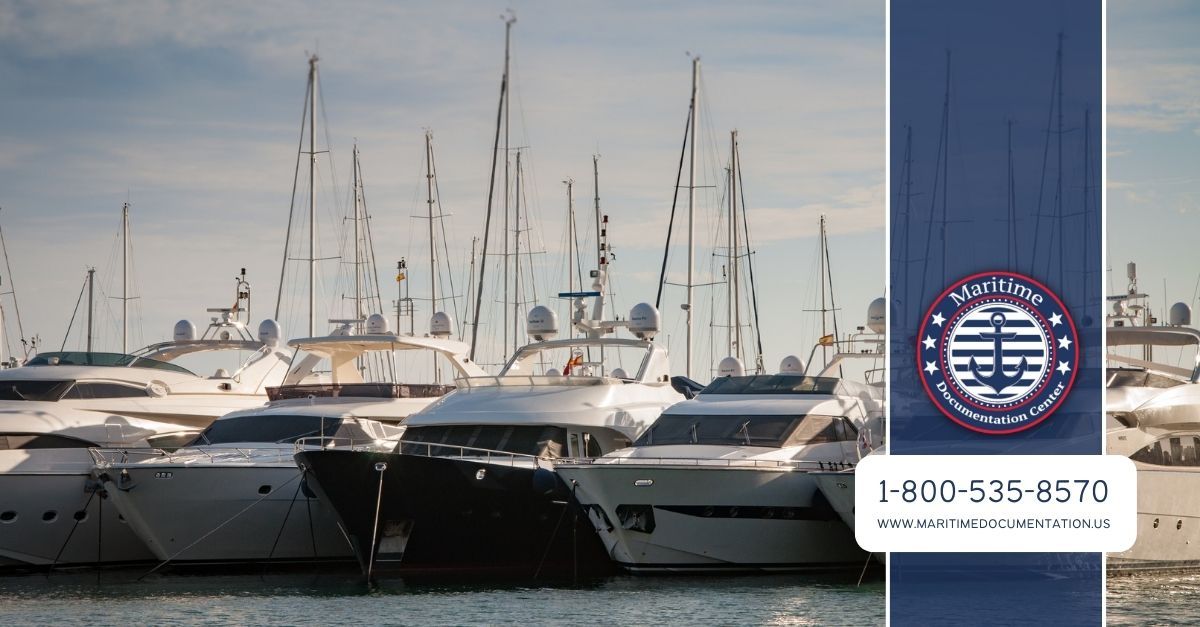 Complete USCG Form CG-1258
Before you begin filling out this form, ensure that you have your vessel's identification number, the name and address of the owner, your home port, and all the other necessary information. Many boaters are under the impression that they may continue to use their vessel without first obtaining a US Coast Guard registry number. However, to do so, they must first get certification from the Coast Guard. Many boat dealers can fill out the form for you, or you may contact a local Coast Guard station for help choosing which portion of the form to fill out or which information is needed for your boat.
You don't have to be a big-time fisherman to join the US Coast Guard's boat registry—you may participate in one of the most popular pastimes that connect people from all walks of life, but it's essential to do things right from the beginning. The first step is ensuring that your yacht has all of the necessary safety and legal requirements to operate. Contact Maritime Documentation Center at (800)-535-8570 for additional information on achieving this.