A boat registration transfer in the United States might seem like a massive hassle if you're the current owner. You only need a few essential pieces of paperwork to finish the procedure. The process of changing boat ownership requires the submission of specific documentation. Some of the most frequent forms of identification requested throughout the registration process are outlined below. 
Remember that your state or municipality may have more paperwork requirements. Contacting an attorney before making any choices about your boat is vital since state rules regarding yacht registration and transfer vary widely. However, in most instances, the following paperwork will be needed to transfer a vessel:
Bill Of Sale
You need one document to prove that the individual transferring ownership of a boat registration is doing so voluntarily and without any reservations, before you can take possession of the vessel. A Bill of Sale is a written contract between the existing owner and the buyer that describes the transfer, including the amount paid, any outstanding debts, and any liens. 
A Bill of Sale must accompany the U.S. Coast Guard Certificate of Documentation applications. This document attests to your eligibility to pilot a designated vessel inside U.S. territorial waters. Obtaining this record calls for a Bill of Sale since the sale must be recorded with the state. Bills of lading, title transfers, etc., may also be required as additional proof of ownership or other transactions, depending on the specifics.
Warranty Deed or Title
If you want to prove that you are the owner of a vessel, you will need a legal document known as a warranty deed or title. In most situations, the original title was signed over to you when you bought the boat. If there is any doubt about the ship's owner before your purchase, you must provide the original title with your application for a new title. 
If the former owner of your boat left it to you as a gift or left it to you in their will, you will almost certainly require a copy of their death certificate. This document demonstrates that the present owner has ownership of the vessel and should contain information such as the builder, the year it was created, and other pertinent details.
Certificate of Boat Registration/Proof of Numbers
The Certificate of Title is the following document required when selling a boat. Proof of ownership may be found in a certificate issued by your state's DMV, according to ny.gov. You'll need the boat registration number if you wish to rename your yacht legally. However, you must ensure your vessel is adequately registered before applying for a new title. You'll need to have it registered and licensed if it doesn't already do so to meet local, state, and federal requirements. 
Verify the validity of your boat's registration and identification numbers with the DMV if you already have them. Registration must be renewed if the vessel's name or ownership changes at any time or if the owner relocates to another state. You may get the most up-to-date versions of each state's requirements online and prepare the relevant documents in advance.
Proof of Insurance
This is probably the essential document required when applying for boat registration, as it establishes your financial responsibility to the property you are registering. This document should indicate that you qualify for the kind of boat and motor mentioned on your application and that the insurance policy covers the locations where you want to use it. It should also show that the insurance policy covers the places you intend to use it. 
In addition, it must include your name as an insured party. A standard boat insurance policy will also cover the cost of defending your vessel and its contents against theft or damage. This includes coverage for damages or losses caused by fire, theft and vandalism, storm damage or floods, as well as other natural catastrophes such as earthquakes and volcanic eruptions.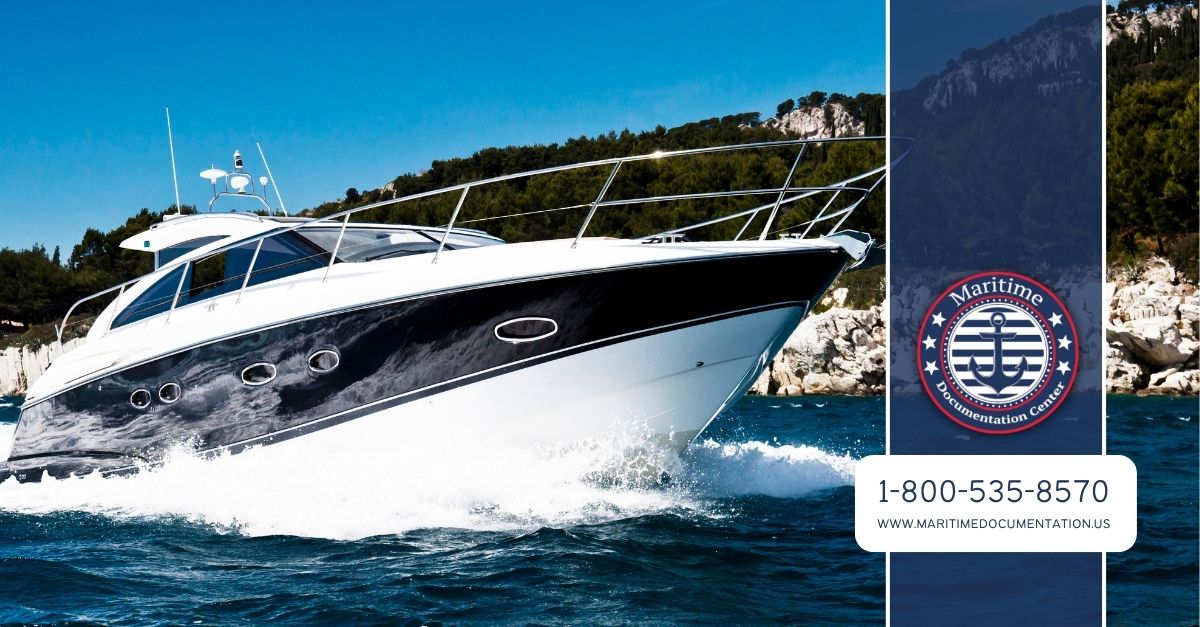 USCG Documentation
To complete the transfer of ownership of a USCG-documented yacht, the buyer must obtain a Certificate of Documentation. This certificate is proof of ownership and is submitted to relevant authorities to register the vessel. If the present owner cannot provide you with this, you may require the Authority for Application for Certificate of Documentation. Once obtaining the Certificate of Documentation but before getting a new USCG registration number (issued after the transfer is concluded and no liens are found on the boat's title), you may transfer ownership. Getting a new mortgage before closing might be helpful if there are liens on the boat's title or if you want to refinance or sell the ship in the future. This documentation trail might then demonstrate to prospective purchasers and lenders that you have equity in your vessel before selling or refinancing it. 
If you're getting ready to sell a boat, you'll have to fill out a few forms and provide information about the vessel. For more information about standard boat registration documents for your transfer, contact the Maritime Documentation Center today at 800-535-8570.