Have you been looking for a way to deal with your Coast Guard documentation that's actually simple to use? Does it feel like every time you go online to fill out your forms, it's far, far more difficult than it should be? That's why we designed our Coast Guard portal. Through it, you're able to find and fill out all of the forms you'll need that much easier. Vessel documentation isn't the kind of thing that anyone should ever have to worry about. Rather, it should be something easily done, like taking out the trash. We've streamlined the process in many ways. 
Putting All of the Documents in One Place 
Searching online to find multiple documents for your vessel is a profoundly unpleasant way to spend your time. Don't do it. With the Maritime Documentation Center, all of the files you'll need are in one place. Just go to our home page. That's literally it. You don't even have to go through our site to find all of the flies. They are right there, on the homepage, prominently displayed. You can find all of the files listed on the left. However, they're all right in the center of the page, too. That way, the most popular ones are highlighted. 
Mobile Optimization: Keeping Your Mobile 
Sitting down to fill out vessel documentation on your computer is not anyone's idea of a good time. So, we've made our site mobile optimized. That means that it will load entirely and completely on any device, so long as you have the internet. Have you ever tried opening a site on your phone, only to find that there were problems? Maybe it loaded only partially, or there were whole links that didn't work or some other concern? None of that happens with our site. When you open our site on your phone, it loads quickly and completely so that you can fill these forms out.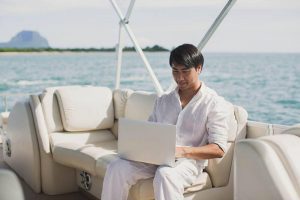 How This Works for You 
What that means is that you don't have to be at a computer to complete your forms. Instead, you can be out and about, living your life, filling out vessel documentation when you have a moment. Perhaps in between meetings you can find a few minutes to work on your documentation. Maybe while you're waiting for dinner to be prepared you have a few minutes to yourself. This way, documentation fits itself around your life, and not the other way around. 
A Coast Guard Portal with "All the Bells and Whistles" 
The phrase "with all the bells and whistles" tends to mean "many extra accouterments that make for a better experience." Our site has plenty of those. For example, we hired the best document processors in the business. That means if there are any even tiny errors or typos in your forms, they'll be caught and fixed before they go on to anyone else. We see it as one more way that we can help our customers. For more, you can call us at (800) 535-8570.